Interested in being an officer? Talk to us at a meeting or email us and tell us how you want to help improve CHAOS. We would love to have you join the team.
Before emailing an officer, please check the FAQ page on this website. 
It's likely that you will quickly find an answer to your question there.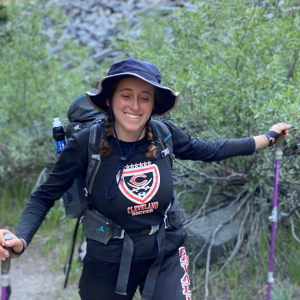 KATIE LYON
Co-President + DeCal Instructor
Favorite trip

: John Muir Trail (Northbound!)

Favorite trail food

: Nutritional Yeast

Likes

: Backpacking, bouldering, and hiking
Contact: k.lyon@berkeley.edu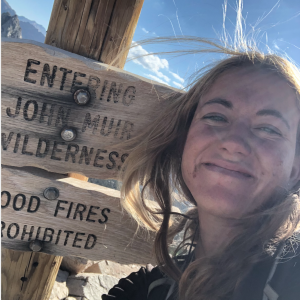 Lexi Caruthers
Co-President + DeCal Instructor
Favorite trip

: John Muir Trail (Southbound!)

Favorite trail food

: Apples + chocolate chips
Likes: Tree climbing, long jaunts, acoustic guitar, sleeping under the stars, sunrises

Contact

: alexajade@berkeley.edu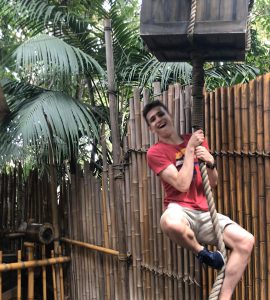 STEFAN HOMENTCOVSCHI
Head Gear Officer
Favorite trip

: Mt. Shasta

Favorite trail food

: Subway Sandwiches

Likes

: Skiing, Hiking, and Windsurfing

Contact

: shomentc@berkeley.edu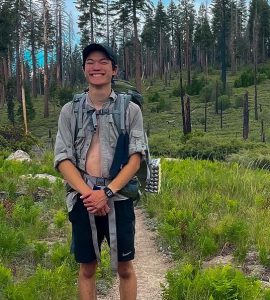 Ian Wang
Head Trips + DeCal Instructor
Favorite trip

: Turtle River Park (Canada)

Favorite trail food

: Onion & garlic almonds, GORP + M&Ms

Likes

: Backpacking, skateboarding, climbing, jazz

Contact

: ianwang626@berkeley.edu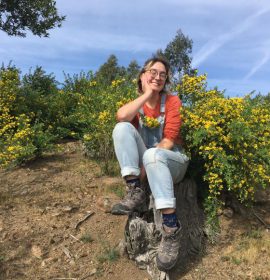 GRACE BOYD
Membership Officer
Favorite trip

: Fairyland Loop, Bryce Canyon

Favorite trail food

: Walnuts and pretzels

Likes

: Hiking, cliff jumping, creating & exploring

Contact

: gmboyd@berkeley.edu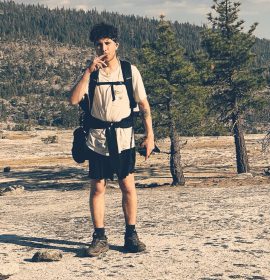 ERIC OBLEPIAS
Ambassador Of Fun
Favorite trip

: Indian Heaven Wilderness

Favorite trail food

: Summer sausage n pinot

Likes

: Backpacking, singing (badly), merrymaking

Contact

: eric.oblepias@gmail.com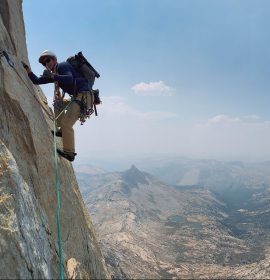 Floyd Mccluhan
Trip Leader
Favorite trip

: Anything in the high sierras

Favorite trail food

: Cliff Bars

Likes

: Alpinism, rock climbing, ultra-running, slacklining, and long walks on the beach
Contact: floyd.mccluhan@gmail.com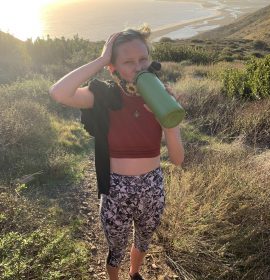 Lauren Holland
Trip Leader
Favorite trip

: Garden of the Gods

Favorite trail food

: Popcorn and oranges

Likes

: Hiking, camping, climbing, exploring, hugs
Contact: laurenholland@berkeley.edu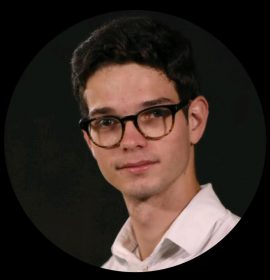 Favorite trip

: Off trail wandering in Wrangell St Elias in Alaska

Favorite trail food

: Marshmallow hot chocolate

Likes

: Mountains, glaciers, hiking, climbing
Contact: hugues.vigner@berkeley.edu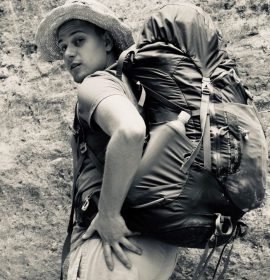 Fischer heimburger
Trip Leader
Favorite trip

: Sunset at Panamint Dunes

Favorite trail food

: Carrots n/ Peanut Butter

Likes

: Field frolicking, sleeping under the stars, rock-climbing, the color orange

Contact:

fheimburger@berkeley.edu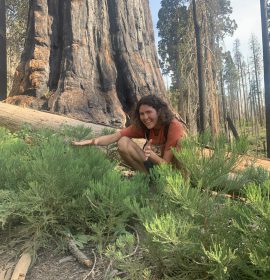 Nic Dutch
DeCal Instructor + Trip Leader
Favorite trip

: McConnell Peak/Highland Lake – Desolation Wilderness

Favorite trail food

: Sunbutter

Stoked about

: backpacking, mountain biking, cooking, rooftops
Contact:

nicoledutch

@berkeley.edu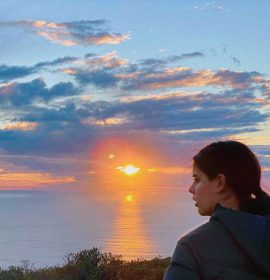 Stefanie Iojica
Diversity + Inclusion Officer
Favorite trip

: Olympic National Park

Favorite trail food

: Z-bars and tangerines

Likes

: Hiking, skiing, bouldering, "Hey check out what I got from REI"
Contact: stefioj@berkeley.edu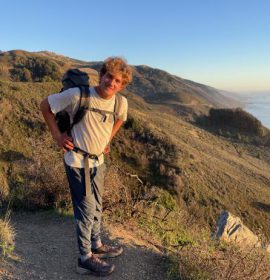 Ethan Lisle
DeCal Instructor
Favorite trip

: Mt. Mansfield (or anywhere in Vermont)

Favorite trail food

: a rainbow of cliff bars, trail mix, oatmeal

Stoked about

: snow, water, rocks
Contact: ethanlisle@berkeley.edu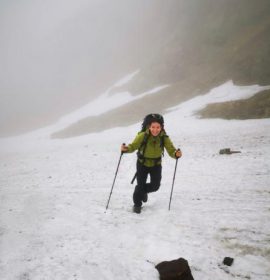 Franka Wacker
DeCal Instructor
Favorite trip

: Schladminger Höhenweg in Austria

Favorite trail food

: Cliff Bars and sour patch kids

Likes

: Skiing, snowboarding, road biking and horses
Contact: franka.wacker@berkeley.edu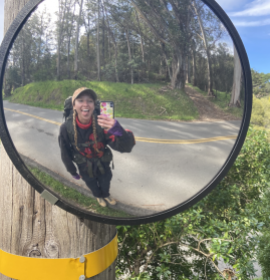 amanda fields
Stoke and Wellness
Favorite trip

: Salt Point Park

Favorite trail food

: chocolate chip peanut butter

Stoked about

: running, painting, free diving, trees, dinosaurs
Contact: ahfields@berkeley.edu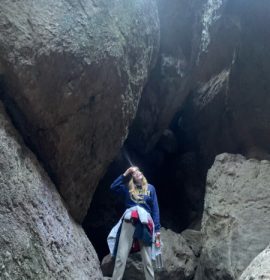 Bella Longhi
DeCal Instructor + Trip Leader
Favorite trip

: Trans Catalina Trail

Favorite trail food

: peanut butter and mac n cheese

Stoked about

: the campfire song song, island backpacking, open water swimming, and kayaking 
Contact: isabella.longhi@berkeley.edu